The Field Goods bag contained a coleslaw mix – cabbage, a little carrot, and a teeny bit of kale so what's a girl who loves coleslaw gonna do but make coleslaw? Like right away! And I had to have some, like right away even though I know it's better after a couple hours in the frig. But that's ok. It was still delicious. I've mentioned it several times over the years and I'm just going to post it here for reference. Get the book: Sacramental Magic in a Small-Town Cafe by Peter Reinhart. I can promise you that you will not regret it and you will find things you will make over and over again including this coleslaw. And BBQ. Don't forget the BBQ.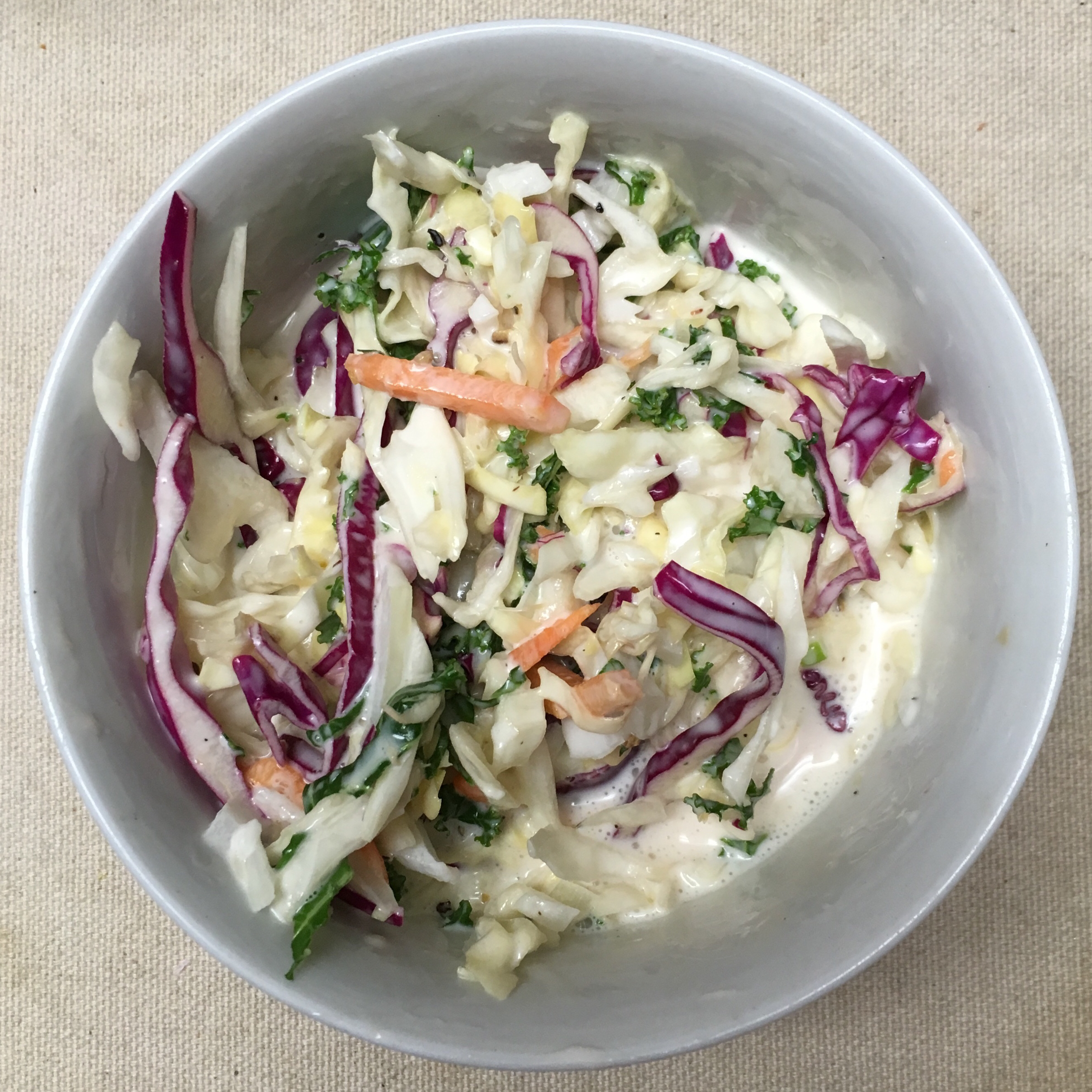 Coleslaw, serves six

1 large head cabbage
1/2 cup finely diced onion (yellow, white or red)
1 1/2 cups good mayonnaise – (Hellman's, Best Foods)
1/4 cup apple cider vinegar (you may adjust this upward to taste)
1/2 cup granulated white sugar (you may adjust this downward to taste)
1 tsp coarsely ground black pepper.

Grate or shred* the cabbage as thinly as possible. Combine it with the diced onion and all the other ingredients. Depending on the size of the cabbage, you may have to adjust the amounts of mayo, sugar and vinegar to taste. The slaw should be sweet, sour, peppery, and creamy. Allow it to sit for at least 1 hour before serving. It will taste even better the second day.

Coleslaw will keep up to a week in the refrigerator (although it usually will have been consumed by then). After a few days it gets runny, as the cabbage leaches out its water, and a taste of onion starts to dominate. Regardless, it will, to the end, be a conversation stopper.
* I use a sharp knife and cut very fine but leave in fairly long strands. I just don't much like confetti-like or ground up sort of coleslaw.
Having had a delicious dinner I did some other things. Reached into my top drawer to pull out a new nightie for later and my hand pulled out this: